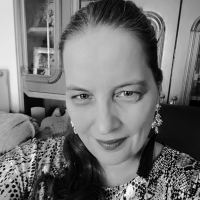 Karina Kantas
Crime Fiction, Thrillers, Suspense, Supernatural Suspense, Action & Adventure, Contemporary Romance, Romantic Suspense, New Adult Romance, Paranormal Romance, Romance, Erotic Romance, Historical Fiction, Women's Fiction, Science Fiction, Fantasy, Horror
Profession

Author, Author Assistant, VA, designer, narrator, Social Media consultant, Marketing and promotion manager, radio show presenter
Karina Kantas originates from the UK, but has lived in Greece most of her life.
Karina is a prolific author of 13 titles and publishes in the fiction genres of MC thrillers, fantasy, horror, sci-fi, PNR, comedy, dystopian, erotica, romance and thrillers
When her imagination is working overtime, she writes thought-provoking/dark flash fiction.

Titles to date:

The OUTLAW series
In Times of Violence - YA MC romance
Huntress - MC thrillers/romance
Lawless Justice - Vigilante MC thriller
Road Rage -MC thriller

Collections:
Heads & Tales -Flash and short fiction.
Undressed -Flash, poetry, prose
A Flash of Horror - horror flash fiction from the two collections above.

Stone Cold -YA Supernatural thriller
Toxic - sci-fi, dystopian erotica

Illusional Reality duology- YA fantasy PNR
Illusional Reality
The Quest

Currently working on a mafia thriller, Broken Chains

Karina also runs affordable author services for new and established indie authors. As well as having her own radio show Author Assist with Artist First Radio Network. And has her own YouTube show, Behind The Pen. Where she chats to authors about their journey.
Video
A Writer's Life For Me.